Streetly flood: Cost of damage to homes is more than £1m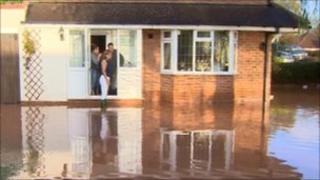 Flooding which hit a West Midlands housing estate has caused more than £1m of damage, South Staffs Water has said.
A water main leading to the Barr Beacon reservoir burst in the early hours of Saturday, flooding up to 150 properties in the Blackwood Estate, Streetly.
Flood water had been 3ft (0.91m) deep in places, according to West Midlands Fire Service.
A South Staffs Water spokesman apologised to residents and said a clean-up operation was in progress.
Alex Martin, head of water strategy for the utility company, said loss adjusters had been out to survey the damage and work out potential costs.
Specialist help
He said: "I have heard it'll be over a million pounds but how much over I don't know.
"We're out again today with teams trying to help with clearing up outside and we've got a team of cleaners who can help with some of the minor internal clearing up.
"Where there's a lot more serious damage it's going to need a lot more specialist help and people will need to get [in contact with] their insurers."
Ms Martin added that the cause for the burst was not yet known and that there was no problem with the supply of water to the area.
South Staffs Water will have a vehicle based in the car park of the Foley Arms pub between 08:00-18:00 GMT on Sunday and Monday if affected residents need to get in contact.