August riots: West Midlands youth workers' cuts warning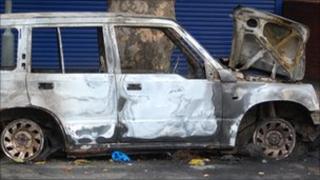 Youth workers in the West Midlands are warning that 100 days on from the August riots, young people are facing "the toughest times for more than 25 years".
Three men died in the August riots in the West Midlands and almost 700 people were arrested.
Disorder broke out in Birmingham on Monday 8 August, spreading the next day to Wolverhampton and West Bromwich.
More than 30 shops were looted in Birmingham city centre.
Across the West Midlands 14 youth associations representing hundreds of voluntary organisations are all experiencing funding cuts and are said to be "under threat".
Two youth workers who have both been honoured with MBEs this year for their work with young people have spoken out as their funding has already been cut.
Lincoln Moses has been running inner-city football clubs for 25 years.
His funding of £18,000 was cut last year, putting the future of the teams he runs in Aston, Handsworth and New Town in Birmingham at risk.
Mr Moses said: "With the lack of funds there's not much you can do to engage or empower young people.
"If you can't empower young people, then young people will make their own decisions and they're very guilty of making wrong decisions."
Lesley Franklin is in charge of the Stonehouse Gang, a youth centre in Selly Oak, Birmingham, whose funding of £20,000 has been cut. For some time the project has been running at a loss.
"It is as tough as ever I've known in 25 years and I don't know how it's going to get any easier," she said.
Voluntary sector
Birmingham City Council has to save £212m this year, and its future budget for youth services is under scrutiny and open for consultation with communities.
Responding to criticism of the cuts, Councillor Les Lawrence has said: "We remain absolutely committed to our youth services and have continued to improve outcomes for young people across the city, such as improving skills and behaviour for vulnerable youngsters.
"High quality youth provision will continue to be targeted to our more vulnerable communities and we are working closely with the voluntary sector and other partners to enhance provision across the city."
The council has said that it does not see a link with young people and the riots, as only 31% of those arrested were under 18.
Headteacher Liam Nolan at Perry Beeches school in Great Barr, has put on special classes and discussions following the riots.
He said he was optimistic that with the right leadership young people could achieve, whatever economic background they came from.
Mr Nolan said: "I fear that people may riot again because I don't see many pragmatic changes and much difference made to their lives in these 100 days.
"I would say let's get our young people on board - this is about communities."