Birmingham binmen strikes called off for council talks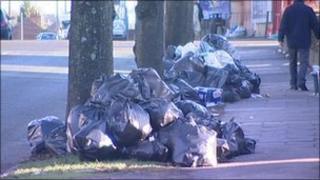 Birmingham bin collectors have suspended strike action over proposed changes to pay and conditions while talks with the council are held.
Several days of industrial action were to take place at the end of this month but has been called off for eight weeks while talks take place, the GMB said.
They will take part in national pension strikes on 30 November, it added.
Unions representing the binmen said they could lose between £1,000 and £7,000 a year if the changes go ahead.
Long-running dispute
In a statement, the council said: "Trades unions in Fleet and Waste have agreed to suspend the industrial action planned for Friday, 18 to Monday, 21 November 2011.
"This will allow for a further period of consultation to take place regarding the implementation of a future operating model."
The GMB said further action planned on 1 and 2 December had also been called off while the talks were held.
The binmen went on strike in January as part of the long-running dispute.