Birmingham City Council charges unions for march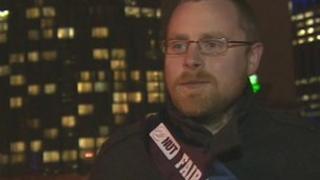 Unions have accused Birmingham City Council of trying to sabotage a protest march - by asking for £8,000 to cover its costs.
Thousands of public sector workers are expected to march to a rally at the NIA in Birmingham on Wednesday as part of a national strike over pensions.
The unions claim they have been told they have to pay the charge if the march goes ahead.
The city council said anyone staging a march must cover costs.
Doug Morgan, from the National Union of Teachers (NUT) in Birmingham, said: "The council will be making hundreds of thousands of pounds from our protest from the wages that we don't claim on the day.
"So it's a bit rich of them to ask us to pay twice for democracy in Britain."
Unions claim on a previous occasion they were only charged a few hundred pounds.
A statement from Birmingham City Council, which is controlled by a Conservative-Liberal Democrat coalition, said it was willing to agree a route to allow the march to go ahead subject to an acceptable route and a commitment to cover any traffic management costs.