'Concerns' over Kristiana Logina, killed by scalding shower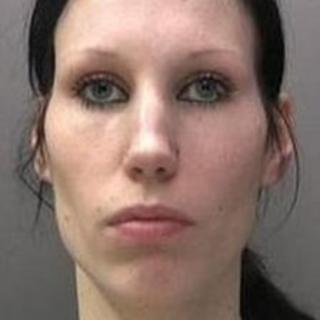 Health workers had been concerned about a mother who went on to kill her toddler by holding her under a scalding hot shower during the girl's early life, a report has said.
Two-and-a-half-year-old Kristiana Logina died after the incident in February 2010 in Harborne, Birmingham.
Her mother Eva Logina and ex-partner Rashpal Chana were jailed last month.
The serious case review said it was not clear if social workers could have prevented Kristiana's death.
Kristiana is thought to have died from septicaemia up to two weeks after suffering 10% burns.
Logina and Chana were both convicted of manslaughter on 22 November.
Logina was jailed for six years while Chana, a former magistrate, was jailed for four-and-a-half years.
The Birmingham Safeguarding Children Board report said the toddler could have survived the incident, at the house owned by Chana, if her family had "accessed medical treatment earlier".
However, it said it was "less clear" whether it could have been prevented through "more thorough and robust assessment by children's social care and the health visiting service".
Suspected eating disorder
The report said some professionals had been concerned about the mother during the child's first two years.
The board heard that a GP had referred Logina to mental health services due to a suspected eating disorder.
A health visitor had also noticed bruising on the child, but had accepted the mother's explanation that it was accidental.
Kristiana had been in foster care during the first two weeks of her life. However, since she moved into her mother's care in November 2007, the review heard that social workers had observed Logina's physical and emotional care of the child to be good.
As a result of the observations, social worker involvement ended in October 2009 and at the same time the health visitor had decided to reduce the number of visits to a routine level.
The review identified missed opportunities to share information between different agencies.
It found there should have been "better inter-agency communication" and recommended "the provision of easily available guidance for parents on the treatment of burns".
It concluded that while some agencies and professionals delivered effective services, "there were others who focussed upon adult issues and lost sight of the children".
Jane Held, chair of the board, which produced the report, said: "There are always lessons to learn from these tragedies, especially for those agencies that were in contact with the family."
She said that the key recommendations had already been acted upon.
The Birmingham board said it was also planning a publicity campaign to warn parents of the dangers of hot baths and showers.