Birmingham bailiffs 'target 32,000 council tax defaulters'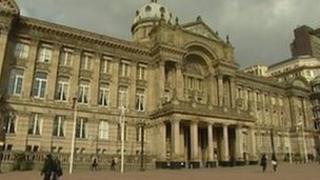 More than £90m is owed in council tax by nearly 90,000 defaulters across Birmingham, the city council has said.
Of the 422,500 new bills sent out each year, the council should collect £300m but £25m goes unpaid, a spokesman said.
Bailiffs collected more than £7m in 2010/11 and are continuing to pursue about 55,000 other accounts at a value of £70m.
People will have at least five opportunities to make payment before bailiffs are used, they added.
Councillor Randall Brew, cabinet member for finance, has been reviewing the council's policy and practices in relation to the use of bailiffs to enforce the collection of council tax.
The decision was then taken to make the details public.
He said: "This year we estimate that we will have little option but to refer around 32,000 accounts to the value of approximately £25m to bailiffs.
"Each year we send out 422,500 new bills [the number of properties that receive council tax bills] totalling just under £300m as well as continuing to pursue around 55,000 other accounts at a value of £70m in arrears from previous years."