West Midlands riots awards mark 'exceptional courage'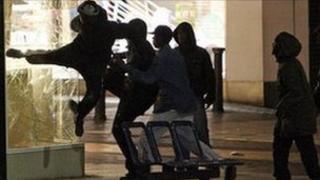 A Birmingham shopkeeper who showed "great bravery" when his store was attacked is one of 145 people to receive a special award for their actions during the summer riots.
A student who used Twitter to alert the police when she discovered several petrol bombs was also honoured.
Those to get awards included police officers and members of the public.
West Midlands Police Chief Constable Chris Sims said many of those awarded showed "exceptional courage".
Two police officers from Coventry who confronted more than 50 youths armed with petrol bombs and bricks are among those who got bravery awards.
The ceremony started with a one-minute silence as a mark of respect to the three young men who lost their lives in the disturbances.
Shazad Ali, Abdul Musavir and Haroon Jahan were hit by a car as they tried to protect property from looters.
The awards were presented by the chief constable and the chair of the West Midlands Police Authority in the great hall at Birmingham University.