JLR at start of a 'great revival' - Lord Bhattacharyya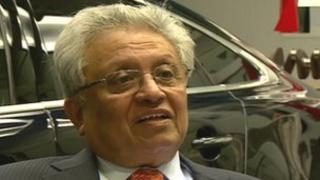 The businessman who played a key role in enabling car giant Tata to take over Jaguar Land Rover (JLR) says the firm is at the start of a "great revival".
The company went from being on the verge of needing a bail out in 2008 to making billions of pounds in profit.
Last month, it announced it is to take on more than 1,000 production staff.
Baron Kumar Bhattacharyya of Moseley, who founded Warwick Manufacturing Group 41 years ago, said the firm was a Midlands icon.
He helped with the transfer of ownership from Ford to that of Ratan Tata in India.
JLR confirmed that in September, sales for Land Rover in India were up 155% from the year before, while Jaguar cars saw a 63% rise.
In the past year, sales in China have increased by 92%, the firm has said.
Experts say it has benefited from foreign exchange rates as well as the popularity of new models such as Jaguar XJ and the Range Rover Evoque.
Land Rover vehicles are produced in Solihull and Halewood, near Merseyside, but Jaguars are produced at Castle Bromwich.
In September, the firm said it was investing £355m to build low-emission engines on a 120-hectare site at a business park near the M54.
Lord Bhattacharyya, whose manufacturing group is at the University of Warwick, said he was confident other Midlands firms could be equally successful by having leadership and courage.
He came to Birmingham from Bangladesh in his 20s and has become an influential authority on economic and industrial policy.
Speaking to the BBC Politics Show in the Midlands he predicted a positive future for the car giant.
"I think they are at the start of a revival," he said.
"When I speak to Ratan, he always says that Jaguar Land Rover is a Midlands icon and you have to preserve this in the Midlands and he supports it left, right and centre.
"People used to think that the Midlands, we don't have talent and we're really sort of lazy, idle and see what happens?"