Stourbridge pair in court for monkey cruelty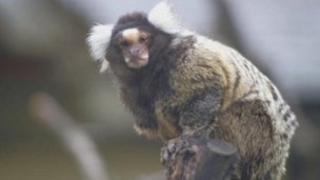 A man and a woman from the West Midlands have appeared in court charged with causing unnecessary suffering to a pet monkey.
The animal, a male marmoset called Mikey, was put down by a vet after its injuries left it "crippled".
Lee Powell, 50, and Julie Ann Jones, 41, each deny four charges of cruelty under the Animal Welfare Act 2006.
The court heard the monkey suffered from a vitamin D deficiency which led it to develop a bone disease.
Prosecutor for the RSPCA Nick Sutton told Dudley magistrates the monkey should have had vitamin supplements in its diet to compensate for the lack of natural sunlight.
He added: "South America has a great deal more sunshine than Dudley."
The court heard the monkey's injuries came to light after Mr Powell and Ms Jones, both of Sunderland Drive, Amblecote, Stourbridge, sold it for £650.
Hamster cage
Sheila Lister, 60, who bought the four-and-a-half-month old monkey took it to an exotic pet dealer who noticed a number of fractures and called the RSPCA.
She told the court she bought the monkey after seeing it advertised in the Express and Star newspaper on 14 June.
She said she met the defendants on a fish and chip shop car park the next day to hand over an envelope of cash in exchange for the monkey, which was in a hamster cage.
Mrs Lister, from Essington, Wolverhampton, said she told Ms Jones she had never owned a monkey before but was assured caring for it would be easy and was instructed to feed it fruit, nuts and marshmallows.
Tail 'was broken'
As well as showing signs of metabolic bone disease, the monkey had urine burns and when an RSPCA inspector took it to a vet, X-rays revealed seven separate fractures.
Mr Sutton told the court: "The animal was hunched, there were areas of hair missing from it. Its tail was crooked.
"In fact, it was broken in two places."
Showing magistrates video footage of the monkey at the veterinary surgery, he added: "It is crippled."