Aston Manor Road Transport Museum relocates to new home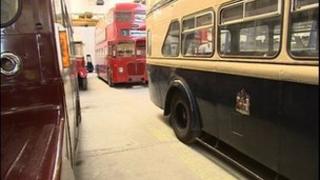 A transport museum in Birmingham has moved to a new home after being threatened with closure.
Aston Manor Road Transport Museum had to move after failing to buy its old premises from the city council.
The museum has moved to a former dust cart production line in Aldridge.
Geoff Lusher, museum chairman, said: "I have to say I'm very sad about it, but inevitably the city council put us in a position where we really had no other option."
The council has said the closure was sad but trustees had not come up with a sustainable long-term business plan.
Volant Passenger Vehicle Solutions, the company which owns the new site near Walsall, hopes to convert it from a bus refurbishment business into a bus manufacturing site.
The company has given the museum an initial six months rent free with the hope of a 10-year lease to follow.
Matt Shenton, from Volant, said: "The museum will be located into this half of the building and the other side of the building will be where our production line will be.
"There will be viewing areas where you can look through and actually see the production in progress."