Museum work continues for Birmingham history galleries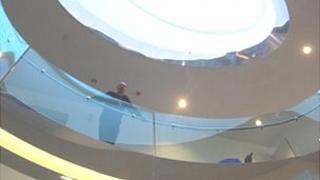 The next stage of a £9m museum project dedicated to the history of Birmingham is under way.
Work has started fitting out the series of galleries at the city's Museum and Art Gallery.
Part of the Grade II* listed city centre building has been restored and refurbished to house the exhibitions.
The project has been backed by a £4.9m Heritage Lottery Fund grant, and the galleries are set to open in September.
'Global history'
Councillor Martin Mullaney, Birmingham City Council cabinet member for leisure, sport and culture, said: "This exciting project, which will tell the story of Birmingham's great global history, is now moving into the final stage.
"The new exhibition space is magnificent and I know staff at the museum are excited at the prospect of fitting out new galleries that I'm sure will be a big hit."
There will be four galleries which focus on the development of the city from medieval times to 1945, with a fifth devoted to Birmingham and its people today.
Chris Rice, head of heritage services at Birmingham Museum and Art Gallery, said the project was driven by popular demand.
"We asked the people of Birmingham what they would prioritise as the new exhibits in Birmingham Museum and Art Gallery and they said they wanted more about Birmingham's history," Mr Rice said.
He said the challenge had been choosing the exhibits to go in the galleries because "we have a lot of objects, our collections are world-class".
"We've got a big story to tell so it's a mixture of objects that have seen the light of day before, some that haven't and interwoven in with that are people's stories," he added.