Snow White pantomime 'insults' dwarves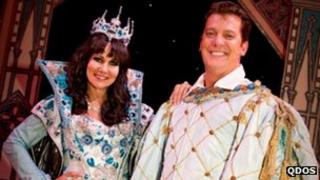 A pantomime in the West Midlands has been criticised by dwarves for using children rather than short actors in its Snow White Christmas production.
The Grand Theatre in Wolverhampton has recorded adult voices and cast children in masks to play the seven dwarves.
Well-known short actor Warwick Davis said it was "almost as if the show should have something to answer to under the trade descriptions act".
Producers Qdos said it did not want to seem exploitative of dwarves.
Davis, star of the BBC comedy Life's Too Short and films including Return of the Jedi, in which he played an Ewok, and a co-director of Willow Management agency for short actors, said he did not see how it could be exploitative.
He said: "How can this be so? Short actors are in no way 'forced' into this work. They decide to take up the offer of the employment and are paid in return, just like any other job.
"Audiences want good actors, good sets, a great story and authentic casting."
Disability discrimination
A spokesman for Qdos said: "The casting of children as dwarves in Snow White, rather than using adults, was a decision taken under review three years ago.
"Following last year's shows it became company policy not to cast adult dwarves in these productions.
"This was a response to audience discomfort with what was considered by some to be exploitative casting."
Val Sims, a founder member of Restricted Growth Association (RGA), based in Solihull, West Midlands, said: "I have dwarfism and I don't necessarily agree with dwarves going into show business thinking that is all they can do.
"However, for those who choose to go into acting, some no doubt rely on Christmas time to get work.
"It is Snow White and the seven little men not Snow White and the seven children.
"It's a shame to deny them these parts."
Fellow RGA member Pam Burnell said: "I don't accept [the producers'] explanation.
"If these people have decided to go into acting, they should be allowed to work. They need to work and there's no reason people shouldn't see short actors on the stage or on TV or anywhere else. That's just insulting.
"Providing they are not being ridiculed as people, I do not mind members of the short community playing comedy roles."
'It is ludicrous'
A campaign called Don't Play Me, Pay Me supports the use of disabled actors, rather than able bodied actors, being cast to play people with disabilities in performances.
Its spokesman Nicky Clark said: "I think it is ludicrous. If they had put it down to financial reasons in these straightened economic times I would have disagreed but I could at least have understood.
"This is much worse. Has anyone actually asked the group of actors playing the seven dwarves whether they feel exploited? If not, that is making a decision on their behalf which is hardly very respectful.
"How can eliminating short actors from our stages possibly help, they are under represented as it is?
"Many short actors rely on pantomime season for work.
"I see it as discrimination. I think it is hugely disappointing because the Theatre Grand has a good reputation and I think it needs to think again about its policy."
Peter Burroughs, co-director of the Willow agency alongside Davis, said: "It's a nonsense. This is political correctness gone mad."
The theatre said the pantomime had previously had a six-week run in Belgium before coming to the Grand Theatre in Wolverhampton.
It said it had received no complaints about the production.