Wolverhampton trainers looter Danielle Corns released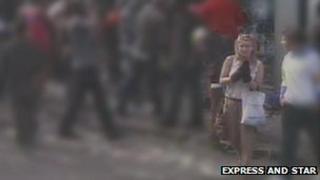 A teenager who was jailed for stealing two left-footed trainers in the August riots in the West Midlands has been released from prison.
Danielle Corns, 19, from Tildesley Drive in Willenhall, served five weeks of a 10-month term at a young offenders' institute.
She had handed herself in to the police after CCTV images showed her leaving a Wolverhampton store with the trainers.
Corns admitted one count of burglary at Wolverhampton Crown Court last month.
In sentencing Corns, Judge John Warner had said that the looters were collectively responsible for the losses at the Zhapp fashion store on 9 August.
Corns will now serve the rest of her sentence at home, wearing an electronic tag.
A Prison Service spokesperson said: "Home Detention Curfew (HDC) is available to low risk prisoners serving sentences of more than three months and less than four years, who are deemed appropriate for early release."
The judge decided the time spent by Corns on remand and on bail would count towards the final sentence.
The Prison Service added: "To be placed on HDC, a prisoner must have served a quarter of their sentence.
"If a prison Governor thinks there is a significant risk to the public, or risk of re-offending on HDC then the release will not be granted."