Good Hope Hospital inquiry into patient's undiagnosed cancer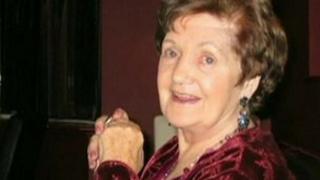 The country's most complained about NHS trust in 2010 is being investigated after a patient was sent home with undiagnosed terminal cancer.
Clara Stant, 78, from Four Oaks in the West Midlands, was admitted with abdominal pains to Good Hope Hospital in Sutton Coldfied in May.
She was released 10 days later with an undiagnosed stomach tumour and lung cancer from which she died in August.
An ombudsman is investigating the appropriateness of Mrs Stant's release.
Heart of England NHS Foundation Trust which runs the hospital was the subject of 171 complaints to the health service ombudsman last year.
Three hospital falls
A Parliamentary and Health Service Ombudsman has also been asked to look into allegations about the hospital's inaccurate record keeping, the trust's handling of the complaint and concerns about staff rudeness to Mrs Stant, who died from cancer on 6 August.
The ombudsman has yet to report his findings but in a statement the trust said: "We take the issues raised in the case of Ms Stant's care at Good Hope Hospital very seriously and recognise that there were areas, particularly around the discharge of Ms Stant and our management of the family's complaint, that should have been managed much better.
"We are putting in place a new complaints process which will provide the hundreds of thousands of patients we treat each year with a visible, dedicated service at the front of our hospitals to address concerns immediately."
Mrs Stant was originally admitted to Good Hope Hospital on 10 May with abdominal pain. She was treated for a urinary tract infection and fell over three times in the hospital.
Her family said her condition was getting worse and said on 19 May they were given an assurance by the ward medical staff that Mrs Stant would not be discharged until her condition had significantly improved.
Junior doctor's decision
The following morning, her daughter Julia Hawkins said the family was given about 10 minutes' notice that Mrs Stant was being sent home by ambulance.
Mrs Stant needed emergency treatment for her urinary tract infection within two days of being released from hospital.
Her release was organised by Hala Kanona, a second-year junior doctor.
The hospital's head nurse, Sue Hyland, was recorded to have said during a meeting between the family and the hospital on 16 August that it was unusual for a junior doctor to be the only person involved in the release decision.
In a statement, Dr Kanona claimed there had been no concerns raised by any of the nursing staff that the patient was unfit for discharge.
Dr Kanona said she was unaware of any assurances the family had been given by the hospital staff that Mrs Stant would be kept in.
The hospital release note also had the wrong date on it because it had been produced a week earlier.
Mrs Stant's consultant, Alan Jewkes, told the family on 16 August that he had not seen his patient for four days before her release.
'Shocked and upset'
He said he asked her GP service to carry out an ultrasound scan and basic investigation following her release, but the Four Oaks Medical Centre said it had no evidence of the request on Mrs Stant's record.
Mr Jewkes has declined to comment further on the case out of respect for patient confidentiality.
At the end of July, Mrs Stant was re-admitted to Good Hope Hospital and was found to have a large tumour in her stomach.
Cancer was also found in her lungs and she died on 6 August.
Her daughter Mrs Hawkins had gone to Australia with her mother's blessing, but could not get home in time to say her final goodbye when the cancer was detected.
She said: "I was feeling so shocked and upset. I was feeling that I should never have gone to Australia. The journey home was the longest of my life."