Decision delayed over Meriden Gypsy site protest camp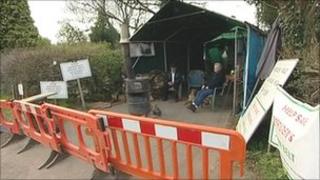 A decision has been delayed on whether to order a protest camp outside an unauthorised Gypsy site to be removed.
Residents Against Inappropriate Development has now been given until 16 January to tell Solihull Council its intentions over the camp in Meriden.
Protesters said their withdrawal should be linked to "enforcement action against the travellers".
Gypsies have said Raid should have a camp at the council calling for more spaces for them to move to.
The Gypsies said there was nowhere for them to go.
'Principal concern'
Raid, which has a protest camp in Eaves Green Lane, Meriden, said it has "breathing space now to plan".
The council's planning committee had been due to decide whether to issue an enforcement notice on the protest camp at a meeting on Wednesday afternoon. The authority will now discuss the enforcement order in February.
Speaking after Wednesday's meeting, protest campaign leader David McGrath said: "We'll be writing to the council to talk about a voluntary withdrawal period.
"But our principal concern is that our withdrawal should be linked to enforcement action against the travellers.
"Enforcement has to happen and we won't be moving until we see that."
Villagers set up a camp in the gateway to a builder's yard in 2010.
The Gypsies lost their appeal to stay on greenbelt land in October this year.