Feeding Dudley Zoo's animals on Christmas Day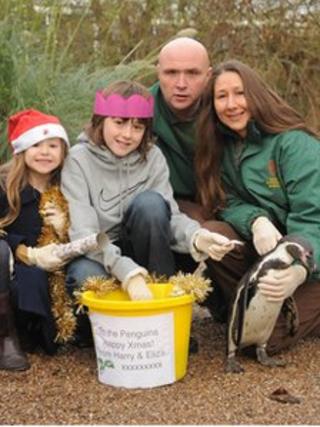 While most people are preparing their Christmas meal, a family from the Black Country have to feed and water their neighbours - of the animal variety.
Matt and Lesley Lewis live and work at Dudley Zoological Gardens and, along with their children, care for the animals on Christmas Day.
Mr Lewis is the curator, while his wife is a specialist keeper in the children's farm section.
Their children also enjoy helping out and sharing their day with the animals.
The zoo is home to a 1,400 animals.
Malt loaf for camels
Mr and Mrs Lewis have both worked at the zoo for 23 years and have lived on the site for 19 years.
Before they can think about their own Christmas dinner, they have to feed their extended family at the zoo.
Mr Lewis said: "Everywhere is quiet on Christmas Day as it's the only day of the year the zoo isn't open.
"A staff of about ten will work Christmas morning, but some will come back in the afternoon to water the apes and feed the big cats."
The younger members of the Lewis family, 13-year old Harry and seven-year old Eliza, also put their presents aside for a few hours to help with the feeding.
Mr Lewis added: "The kids like to treat them. The camels, which arrived in March this year, like malt loaf.
"The animals get extra food, my wife will buy fresh fruit and vegetables from the market. We have also decorated the barn in the farm section."
Frozen flamingo pool
Talking about the best part of helping on the zoo, Eliza said: "We get to see the animals all to ourselves on Christmas Day.
"I always wake up really early and go to feed the animals before I've opened all my presents.
"The penguins are my favourites and dad helps me feed them fish from a big bucket."
The weather is a big issue for the keepers and last year the temperature plummeted to -9C, meaning they had to make sure there was extra water for the animals.
The flamingo pool had frozen, as had other water supplies around the zoo.
However, Mr Lewis is more positive about this year adding, "This year's the opposite, we look a week ahead on the the weather and nothing is forecast, it's nice."