Lichfield couple are New York's '50 millionth' visitors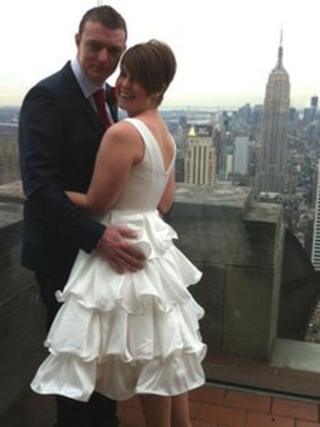 A couple from Staffordshire have been named the "honorary 50 millionth" visitors to New York City.
Craig and Lucy Johnson, from Lichfield, were in the city as they had planned to be married at the top of the Rockefeller Center.
The couple, who fell in love with the city ten years ago, vowed to return and decided to have their wedding there.
However, they were identified as the 50 millionth in Times Square and received a "Golden Ticket" from the mayor.
Five and half years ago, Mayor Michael R. Bloomberg set a goal to reach 50 million visitors by 2015, but in 2008 changed it to be the end of 2012. This meant that they were a year ahead of schedule.
'Times Square stage'
Mrs Johnson said: "We arrived in New York and met up with our wedding planner and arranged all of the details for Tuesday [the wedding day], and they said that had been contacted by a tourist company.
"They were looking for someone who'd just entered the country to represent them for the '50 millionth tourist' to enter New York City.
"My wedding planner asked if we would be interested in participating with this big event in Times Square, so we got married an hour earlier.
"Then an hour later we were standing on the stage in Times Square with the mayor."
The couple were officially awarded with the honour in the middle on Times Square and many of the famous screens flashed up the news of the '50 millionth visitor'.
Mayor Bloomberg presented them with a "Golden Ticket to New York City", which included vouchers and offers from tourism companies and businesses in the city.
Mrs Johnson said: "It was absolutely amazing, we were just taken back. We are just a regular couple from Lichfield... He [Mayor Bloomberg] put us at ease, he was such a lovely man.
"Myself and my husband are very low key, and we didn't ever want the big church, civil service, so we just thought, let's fly away and get married.
"When we get back, we're having a big party for all our family in January."
NYC & Company, the official tourism marketing organisation for the city, forecasts that New York will attract a record-breaking 10.1 million international visitors in 2011.