Birmingham Christmas Shelter predicts busiest year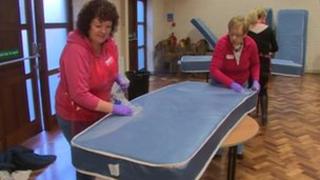 A charity for homeless people in Birmingham is predicting it will be busier than ever over Christmas.
Birmingham Christmas Shelter opens at 10:00 GMT on Friday with food and accommodation on offer around the clock until Wednesday 28 December.
For the sixth year running it will operate at St George's Community Hub in the Newtown area of the city.
About 200 volunteers will help look after up to 150 people at any one time, serving about 3,000 meals in total.
The latest figures from the Department for Communities and Local Government show there are 8,440 homeless people in the West Midlands, which is an increase of over 1,300 from 2009-10.
Alison Rees, from Birmingham Christmas Shelter, said: "From speaking to some of the soup kitchens and some of the organisations that work with homeless people in Birmingham, they've seen an increase of 35 to 40%, which is huge.
"We anticipate that will have an impact on us.
"We've never hit capacity here and obviously we don't want to turn guests away."
The charity, which was previously called Birmingham Open Christmas until 2007, has been operating for more than 30 years.