Bikers deliver gifts to Birmingham military patients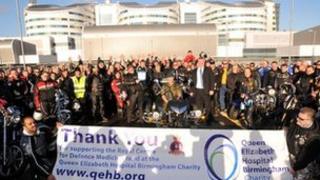 About 300 bikers have ridden to the Queen Elizabeth Hospital in Birmingham to present gifts to wounded military patients.
The bikers, from motorcycle clubs from all over the UK, visited the hospital on a variety of vehicles, from Harley Davidsons to scooters.
The group, which included bikers from as far away as Liverpool and Wales, gave over £800 worth of gift cards.
The cards will be presented to the patients by hospital staff.
They were received on their behalf by the chief executive of the hospital's official charity, Mike Hammond, and Warrant Officer Darren Taylor, from the Royal Centre for Defence Medicine.
Event organiser Dave Taylor, from Halesowen, said: "There is a huge amount of support for our troops and also the world-class care that this hospital gives them and we wanted to get together to show that.
"This is our way of expressing our gratitude to all military personnel for the sacrifices they make and to thank the teams of staff here for all they do."
Mr Hammond said: "It was a spectacle to remember seeing so many bikes here and a fantastic way to show support for our wounded troops.
"We're grateful to everyone who donated a gift which will give the patients a real boost going into 2012."