Blind runner Dave Heeley to become honorary freeman of Sandwell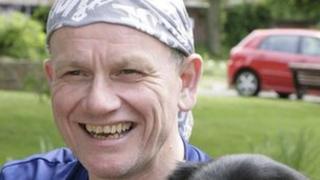 A blind marathon runner from the Black Country is to become an honorary freeman.
Dave Heeley, from West Bromwich, will become Sandwell's 11th honorary freeman at a ceremony scheduled for 23 March.
The decision was approved by at a meeting of Sandwell Council on Tuesday evening.
The 54-year-old, known as Blind Dave, has raised hundreds of thousands of pounds for charity and recently cycled and ran 1,000 miles in 10 days.
'Stunned by news'
Council leader Darren Cooper said: "I am sure he will be a great ambassador for the borough.
"Over the years he has done so much for so many others with his charity runs."
Mr Heeley said he was "absolutely stunned" by the news.
"I was initially speechless. I regard it as a great privilege and honour," he added.
In 2008 Mr Heeley ran seven marathons in seven days.
And last year he ran 10 marathons in 10 days travelling from John O'Groats to Land's End in aid of Macmillan Cancer Support. He also cycled between each stage.
Mr Cooper said: "Making him an honorary freeman is the least we can do."