Policeman who found murdered parents is 'coping well'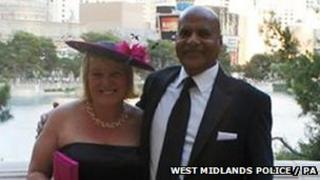 A policeman who found the bodies of his murdered parents in Birmingham is said to be coping "extremely well".
He found Avtar Singh-Kolar, 62, and his wife Carole, 58, dead at their house in Friary Road, Handsworth Wood, on Wednesday morning.
West Midlands Police said a team of more than 60 detectives was working "around the clock" to find the killer.
It is believed the couple, who had four children and eight grandchildren, had been assaulted.
The couple's son, a serving officer with the West Midlands force, went to his parents' house after being unable to contact them on the phone.
'Absolutely horrendous'
Supt Sean Russell said: "My understanding is on speaking to the investigative team yesterday, that he's [the son] coping extremely well.
"He's a very, very good officer but actually this is an absolutely horrendous incident and anybody in that position would have been deeply affected.
"We're all saddened and shocked by the event of what's occurred in the community," he added.
Police have said they are keeping an open mind about the motive for the killings and about what kind of weapon was used.
Det Supt Richard Baker said they were investigating the possibility it might have been a revenge attack linked to the couple's son's police work but said there was currently no information to suggest that was the case.
He said: "I can assure the local communities and the family that we will catch the people who have done this horrendous crime.
"Our thoughts are with the family of this couple and the community in which they lived."
'My wife's scared'
Mr Baker described the Singh-Kolars as a "close-knit, loving family" and said the couple had been married for 40 years and had lived in the Handsworth Wood area for most of their lives.
He said: "We will today (Thursday) begin detailed forensic analysis of the scene on Friary Road and detectives will be speaking to people in the vicinity to determine as much information as possible about the circumstances of Mr and Mrs Kolar's death."
Daljeet Bilkhu, who lives on the same road as the couple, said: "I've know them since 1972. Originally they were customers of my TV and video shop and from that time onwards it became a very close friendship.
"Carole at one time used to go to Aston Manor School and she was in the same year as me and I think she is about the same age as me as well.
"They [were] very, good people, both of them, very soft hearted, very friendly people. It's sad to see them go overnight."
Local councillor Paulette Hamilton said the killings had sent "shockwaves" through Handsworth Wood and people were "deeply saddened".
Neighbour Omar Anderson, 67, who works in a police support role, said: "I just live at the back here and I used to see [Mr Singh-Kolar] out washing his car.
"I knew him to say 'hello' to and I'm sure if I had needed anything he would have helped me.
"My wife is saying she's scared to go out now. Sometimes you have to go home at various hours but it's part of living in a city and you just have to get on with it," he added.
Anyone with information is urged to contact police or call Crimestoppers anonymously.