M6 widening scheme for Birmingham goes on show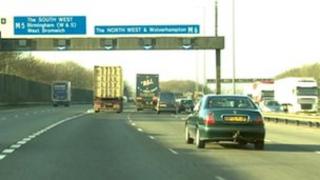 A public consultation over plans to widen the M6 between junction 5 and junction 8 has opened in Birmingham.
The exhibition, detailing the £130m scheme, is at Aston University Recreation Centre in Great Barr.
Sections of the hard shoulder on the eight mile stretch will be closed to traffic later this month while strengthening work is carried out.
When finished, the hard shoulder will be used as a traffic lane at peak times to ease congestion.
"It's really like pulling a cork out of a bottle," said Rob Edwards, project manager at the Highways Agency.
"It should release the flows and reduce congestion considerably for traffic going into Birmingham.
"Work on the road itself will start after the April Bank Holiday. We'll be running three lanes, albeit slightly narrower than exists at the minute, and we'll be running at a 50mph speed limit."