Meriden Gypsy site protesters offer Solihull Council deal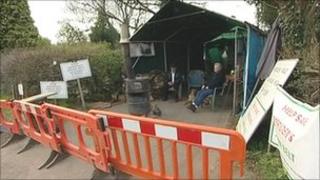 A protest group camped outside an unauthorised Gypsy site have said they will leave in March if court action is taken to evict the people living there.
Solihull Council gave Residents Against Inappropriate Development (Raid) until 16 January to respond to an order to disband their camp in Meriden.
Raid's David McGrath said: "We want our withdrawal linked to actual enforcement action taken against the travellers."
The Gypsies lost their appeal to stay on greenbelt land in October last year.
A spokesman for Solihull Council said the proposal from Raid would be put before its planning committee on 1 February when members would decide what action to take.
Villagers set up a camp in the gateway to a builder's yard in 2010.
Gypsies have said Raid should set up a protest camp near the town hall to call for more sites to be set up for travellers.