Strike over BBC plans to move some Birmingham shows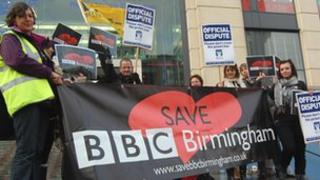 Dozens of BBC Birmingham staff are continuing a 24-hour strike over plans to move some national TV and radio programme-making teams from the city.
The proposals, affecting 78 posts according to BBC figures, are part of the corporation's aim to make 20% savings over the next five years.
Shows including Coast and Hairy Bikers would start moving from the city's Mailbox to Bristol by October 2012.
Members of broadcast union Bectu began the action at 15:30 GMT on Wednesday.
Anna Murray, Bectu national official, said they expected the event in Victoria Square to be attended by representatives from other unions and local politicians.
The union said about 80 members walked out on Wednesday. The BBC said "just over half of the impacted staff went on strike".
Some Radio 2 and Radio 4 production is also earmarked to move out of the city as part of the plans.
Bectu's figures are different from the BBC figures with a spokesman saying their figures may include "not full-time equivalents" which might account for discrepancies.
The union said vision would have 62 posts move with 28 posts made redundant, audio and music would have 21 posts move and four from information and archives.
The union claims the proposals are "seriously flawed" and has called for "meaningful consultation" with the BBC.
Ms Murray said: "The regional economy will be dealt a body blow and the aspirations of those wanting to enter the industry will be dashed."
She said "the majority" of staff would get the chance to relocate but certain categories would not and "we think that's wrong".
"Those with families and caring responsibilities have got very difficult choices to make in very little time," Ms Murray added.
She added she had not been shown any evidence that moving the jobs meant they would be safeguarded in the long term.
The BBC said Thursday's edition of Farming Today would be a repeat.
'Negotiations ongoing'
A BBC spokesman said: "We are disappointed that Bectu members have voted to take industrial action and remain open to dialogue to resolve the dispute.
"This will not alter the fact that the BBC needs to deliver business decisions which safeguard long-term in-house factual production."
The corporation said "engagement with staff and the unions has been ongoing" since the proposals were announced in October 2011.
"Whilst the BBC will need to know whether individuals are prepared to move by early March in some areas in order to plan, there is no requirement to relocate before October 2012, 12 months from the date of announcement," he said.
"We have honoured our commitment to give staff at least three months since the publication of the finalised Relocation Policy (6 December 2011) to decide."