Rise in West Midlands unemployment 'surprising'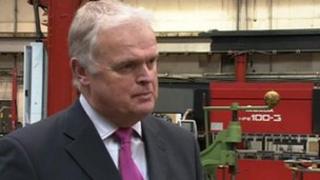 The Black Country Chamber of Commerce has described the latest rise in unemployment figures as a "surprise".
From September to November 243,000 people were unemployed in the West Midlands, an increase of 9,000 people.
Yet, across the region more than 32,500 job vacancies were advertised during the same period.
According to the Office for National Statistics 9.2% of the West Midlands population is jobless, compared with a national average of 8.5%.
Mike Dell, president of the Black Country Chamber of Commerce, said: "It's disappointing really.
"Four out of five manufacturing companies are telling us this year is going to be better than last year, certainly no worse than.
"Professional services companies are saying the same thing. So it's quite a surprise."
The organisation's 2011 third quarter economic survey suggested Black Country businesses were "broadly optimistic" despite "the prevailing shadows over the UK economy".
The organisation represents about 1,500 members across the area, employing more than 56,000 staff.
Responding to the number of job vacancies advertised across the region, Mr Dell said people's skills often did not match the jobs available.
He said some of the largest problems with recruitment were in highly-skilled areas such as aerospace and mechanical engineering.