West Midlands Police release final riots appeal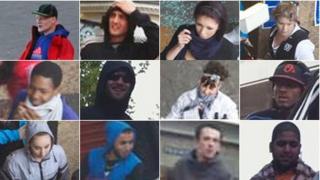 West Midlands Police has released the final set of images of people they want to trace in connection with the August riots.
Disorder broke out in London and spread to other cities and towns, including Birmingham, Wolverhampton and West Bromwich on 8 and 9 August.
The force said 761 people had been arrested in connection with the riots in the last five months.
It appealed for anyone who can identify people in the images to come forward.
Acting Det Insp Julie Woods said: "We could not have arrested so many people without the help of the public.
"We saw unprecedented scenes across our region, scenes which horrified most law-abiding citizens.
"We haven't forgotten what happened and we will not stop looking for these people until they have been brought to justice."
Police said the CCTV images were expected to stay on its website indefinitely.
Despite the large-scale disorder in the summer, Deputy Chief Constable Dave Thompson said crime statistics for July to September show the total number of reported crimes was down by almost 25,000 on the same period in 2010.
He said the force was "on track for what could potentially be the lowest levels of crime since the current recording system began 10 years ago in 2002".