Blood bikers Midlands Freewheelers appeal for volunteers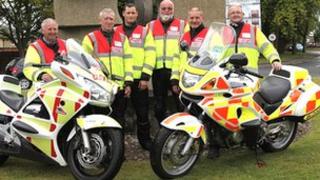 A courier service that saves a Wolverhampton hospital thousands of pounds by transporting blood, organs, x-rays and medication free of charge is looking to expand in the West Midlands.
Launched just over 18 months ago, Midlands Freewheelers is made up of a group of bikers who willingly give up their time to help the NHS.
Known as "blood bikers", they have so far have completed more than 850 journeys - covering 19,000 miles - to and from New Cross Hospital.
The pool of 18 motorcyclists ride at night and weekends. But now the charity hopes to recruit more volunteers to offer the same service for Heartlands Hospital in Birmingham.
"We started with New Cross because it was my local hospital," said Darrell Shaw, from Stourbridge, the man responsible for kick-starting Midlands Freewheelers.
"But Heartlands has been asking us if we can help them too. We now need another 20 or 30 volunteers - riders, co-ordinators and fundraisers."
'Terrible accident'
The out-of-hours courier service relies entirely on fundraising and donations. They have two bikes, with each one costing £8,500 to run for a year and more bikes are still needed to grow the service.
"We're not allowed to speed and we don't ride under blue lights but we've all taken a 'first on scene' first aid course in case of emergencies while we're out and about," added Mr Shaw.
Phil Edwards, who lives near Penkridge in south Staffordshire, said he joined up after going to a BMW bike launch. Midlands Freewheelers were there with a stand.
"I'd never heard of them before," said Mr Edwards.
"But when I found out what they did, I thought it was amazing.
"Most of the people I know that are blood bikers have got some kind of story to tell.
"Often something that's happened to them, or someone they know, is the main reason why they joined up.
"Five years ago, my son was involved in a terrible accident while he was riding his motorbike.
"He suffered a major brain injury but he's slowly getting better all the time.
"First to the scene was a paramedic on his bike. He saved his life.
"For a while after that, I couldn't face riding and my wife didn't want me to either."
'Warm glow'
But 12 months later Mr Edwards enrolled on an advanced motorcyle course, which also happens to be a requirement for all blood bike riders.
"I went on the course to get my confidence back but my wife was still unsure about me going back on the road," he said.
"But I'd recommend the course to anyone. It definitely made me a better rider."
Riders get to keep the bike at home when on duty, during which time they are responsible for any job that is called in from 19:00 to 06:00 GMT, and all day at the weekend.
"You've got to want to do it. It's often very unsociable hours," Mr Edwards said.
"But at 2 or 3am in the morning, the roads are so quiet, it's relaxing.
"You know you're doing something that could save a life, make a difference, and you feel a warm glow.
"People have never heard of us. And when I tell them about it, they say 'I bet you get well paid'.
"When I tell them that the service is free, it blows them away."