WBA player Gonzalo Jara Reyes banned from driving again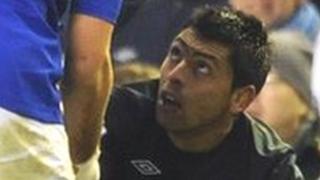 Premier League footballer Gonzalo Jara Reyes has been given a second driving ban for getting behind the wheel despite being disqualified for drink-driving.
The West Bromwich Albion player, from Sutton Coldfield, West Midlands, was banned for 17 months in July.
But the Chilean was stopped by Sussex Police in December when he was on loan to Brighton and Hove Albion.
He admitted driving while disqualified and driving with no insurance.
The 26-year-old right-back, who joined West Bromwich Albion for £1.4m in 2009, appeared at Brighton Magistrates' Court on Friday.
He was disqualified from driving for 12 months, fined £3,500 and also ordered to pay £100 in costs.
Jara Reyes was recalled from Brighton by West Brom last month.