Pakistan widow Rubana Mukhtar claims she has 'no support'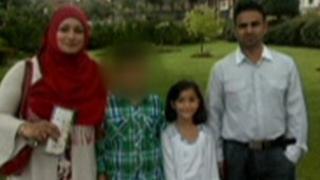 The wife of a Birmingham man shot dead in Pakistan says she has still not been contacted by the British High Commission or Foreign Office.
That is despite the insistence of the Foreign Office that is doing everything it can.
Rubana Mukhtar, her husband Azhar Iqbal and their daughter were attacked by gunmen in Rawalpindi on 11 January.
Ms Mukhtar, who was shot in the foot, said: "No-one's actually trying to come to some sort of conclusion".
Offering support
Ms Mukhtar continued: "I haven't had any contact from the British Embassy, Foreign & Commonwealth Office or the chief investigating officer... I haven't had any contact from anywhere.
"I'm very concerned, I'm very upset that there isn't any notice being taken.
"It's ruined our lives, but no-one's actually trying to come to some sort of conclusion or making any sort of effort or even offering any support."
A spokesperson for the Foreign Office said it was doing everything it could to assist the family and that staff were liaising with the Pakistan local authorities and were providing regular assistance to the family.
Ms Mukhtar said that the Pakistan police had visited her several times, but "ask the same questions".
Rubana Mukhtar and Azhar Iqbal, from Stechford, were in Rawalpindi visiting relatives.
They had been doing some last minute shopping before returning home when they were stopped by masked gunmen.
Mrs Mukhtar said the gunmen had asked for money before shots were fired, killing her husband.
She has said that she will stay in Pakistan and "fight for justice" for her husband.