MP to 'liaise further' after man shot dead in Pakistan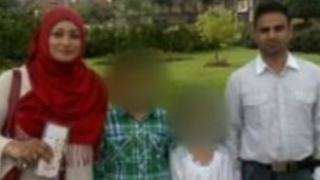 An MP has said he will be "liaising further" with the Foreign Office after a Birmingham man was shot dead in Pakistan.
Azhar Iqbal, his wife Rubana Mukhtar and their daughter were attacked by gunmen in Rawalpindi on 11 January.
Birmingham Yardley MP John Hemming said he would also be liaising with the Pakistani government.
Ms Mukhtar, who was shot in the foot, said physically her wounds would heal but not "emotionally and mentally".
She said she had met police in Pakistan who she said told her that they were "still making enquiries" into her husband's death.
'Liaising further'
Ms Mukhtar also said on Monday that she had now spoken to a representative from the "British Embassy".
Lib Dem MP Mr Hemming said he had been in touch with Mrs Mukhtar and her family and had "worked with them to put together a record of what happened".
"I have also been in touch with the Foreign Office and will be liaising further with them and the Pakistani government later today," he added.
Rubana Mukhtar and Azhar Iqbal, from Stechford, were in Rawalpindi visiting relatives.
'Regular assistance'
They had been doing some last minute shopping before returning home when they were stopped by masked gunmen.
Mrs Mukhtar said the gunmen had asked for money before shots were fired, killing her husband.
A spokesperson for the Foreign and Commonwealth Office repeated a statement issued on Friday which said it was doing everything it could to assist the family and that staff were liaising with the Pakistan local authorities and were providing regular assistance to the family.
"The Foreign Office is not an investigatory authority and cannot interfere in the judicial process of another country, just as other countries cannot interfere in our judicial processes," a spokesperson added on Monday.