Mark Masefield jailed for manslaughter of Anthony Pryke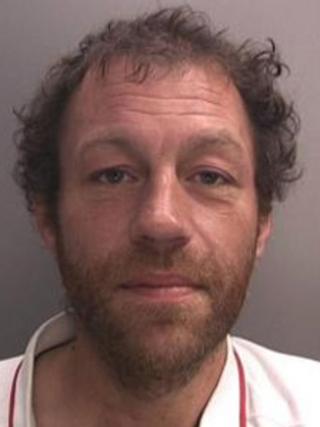 A man has been jailed for 11-and-a-half years at Birmingham Crown Court for killing his friend almost 25 years ago.
Mark Masefield, 43, pleaded guilty earlier this month to the manslaughter of Anthony Pryke.
Masefield, of no fixed abode, denied murder, claiming he killed Mr Pryke in self-defence following an argument.
Anthony, 17, was reported missing in August 1987 and his body was found four months later by workmen clearing the drains at his home in Chelmsley Wood.
It was thought the teenager had climbed into the drainage shaft and died after being suffocated by sewer fumes. An inquest recorded an open verdict.
But Masefield, formerly from the Chelmsley Wood area, confessed to killing Anthony after handing himself in to West Midlands Police last July.
The victim's brother David Pryke and sister Caroline Doyle gave their reaction to the sentencing in a statement.
'Heart wrenching'
It read: "As a family still in grief after almost 25 years, we are satisfied with the manslaughter sentence given to Mark Masefield. We also understand why a charge of murder has not been pursued.
"We can finally have closure into our dear brother's death and hope that Anthony can now rest in peace knowing his killer is behind bars.
"The way Anthony was killed and the disrespectful way his body was hidden for months in a manhole is heart wrenching.
"Masefield could have saved us years of trauma if he had taken responsibility for his crime earlier.
"This is not about the sentence but about finally getting justice for Anthony and also for clearing the name of his brother David who some had blamed for Anthony's death.
"We would also like to say thank you to the police officers involved in this case and for bringing Masefield to justice. Without them we would still be searching for answers."
Glenn Moss, from the major investigation review team, said: "It goes to show that we do keep unsolved crimes open, reviewing them on a regular basis."