Birmingham's elected mayor 'must knock heads together'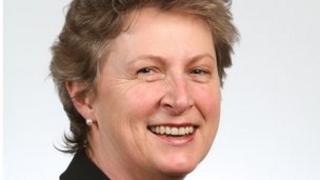 The elected mayor for Birmingham has to make the West Midlands region a success and have the personality to "knock heads together", a candidate says.
Birmingham and Coventry are among 11 English cities where elections for mayors will be held on 15 November.
Labour MP for Birmingham Gisela Stuart said improving employment prospects for the under 25s was also the "most important thing" if she won.
Conservative councillor James Hutchings said there was no need for the role.
Referendums are due to be held on 3 May and if the public agrees, the elections will be held later in the year.
'British tradition'
Confirming the news on Wednesday, Communities Minister Greg Clark said elected mayors would give "visible leadership" and increase prosperity.
But Mr Hutchings, an Edgbaston councillor, said although the role was different to London's mayor he was still concerned about how much power the successful candidate would have.
"The case is constantly based on Boris Johnson, but of course the situation is very different in London," he said.
"The London mayor is a regional job and sits above the 32 boroughs who are responsible for delivering all the local services."
He said the mayor of the second city would not have powers over the police, transport or fire services.
"It is a British tradition that we don't put so much in one person's hands and then they have a job guaranteed for four years.
"It doesn't happen to our prime minister... leaders of industry and commerce."
If the elections are to take place, they will be held on the same day people vote on about 40 new police commissioners to oversee forces in England.
Ms Stuart said Birmingham's elected mayor would sit on a policing panel so would have "a foot in that camp" and added that transport issues could also be transferred over.
"But, I think the Birmingham mayor will have responsibility for the rest of the region," she added.
"I would say to your Lichfields, Wolverhamptons and Dudleys that, unless the mayor understands that the region has to do well and then all of us has to do well, it won't be a good mayor.
'Buck stops'
She cited businessman and former mayor of Birmingham in the late 1800s, Joseph Chamberlain, as the type of personality needed to lead the city in the 21st Century.
Mr Chamberlain, who also became MP for the city and the first chancellor of Birmingham University, "changed the city not because of the power he had but because he had that personality to knock heads together".
"I think that a directly elected mayor, who will have to work with other people but, the buck stops with him or her, will have the ability to change things."
Several people from the political field have so far declared their interest in standing, including former Erdington MP Sion Simon and Labour leader on the city council Sir Albert Bore.
Central News TV presenter Bob Warman has also said he may also stand, but no Conservative or Liberal Democrat candidates have yet come forward.