Massaro couple murder 'brutal and savage'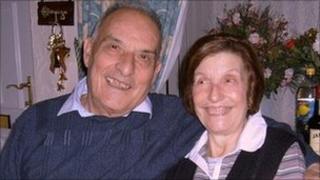 A Polish man murdered an elderly Italian couple in a "brutal and savage" attack in their Wolverhampton home last April, a court has heard.
Guiseppe Massaro, 80, and his wife Caterina, 77, were found at the property in Woden Road, Heath Town.
Ireneusz Bartnowski, 22, of no fixed abode, has denied murdering the couple.
Mr Bartnowski entered his plea in September through a Polish interpreter. The trial at Wolverhampton Crown Court is expected to last three weeks.
Wojciech Ostolski, 32, of Chervil Rose, Heath Town, is accused of handling stolen goods.
In court, prosecutor Peter Grieves-Smith alleged Mr Bartnowski was captured on CCTV as he took two television sets from the Massaros' home and drove away in their Peugeot car.
Hammer and knife
Mr Grieves-Smith added that a "wealth of scientific evidence", which includes blood-staining and fingerprints, proved the defendant's guilt.
The jury was told that the Massaros, who left Naples and arrived in Wolverhampton in 1960 to make a new life for themselves, had both been stabbed and beaten.
Setting out the prosecution's case Mr Grieves-Smith said: "On 21 April, he (Bartnowski) entered their home and murdered them.
"Both suffered dreadful injuries in the course of a sustained attack, an attack that involved the use of weapons - a hammer and a knife.
"The prosecution case is that it was Mr Bartnowski who murdered them both and did it on his own - he entered their home, killed them and stole their property.
"The attack was brutal and savage and they were attacked in the same room and died there."
Mr Bartnowski listened to the opening speech via a Polish interpreter, with some of the couple's family also present.
Mr Ostolski denies handling the stolen televisions, which were sold for £200, and the Peugeot.
The trial was adjourned until Monday.