Solihull man jailed for death of pedestrian Adam Collard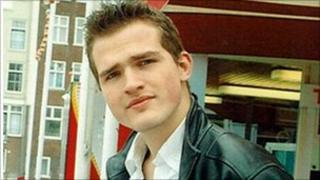 A 38-year-old man from Solihull has been jailed for killing a pedestrian in Birmingham last year.
Adam Collard, 24, from Solihull, was in Sheldon when he was struck by a car driven by Darren Daniels in August. He died shortly afterwards.
Daniels, from the Smith's Wood area, failed to stop at the scene.
He pleaded guilty to causing death by dangerous driving and perverting the course of justice last December and was sentenced on Wednesday.
Speaking after the hearing at Birmingham Crown Court, Mr Collard's mother, Angela Collard, said: "Darren Daniels has been given a three-year, nine-month sentence for killing my son, Adam, whilst speeding.
"This incident has passed me a life sentence - a life without my beautiful, much loved son.
"People need to be aware that speed kills and shatters the lives of those left behind.
"There are no winners here, everyone has lost something."