Birmingham University student occupy ban to be fought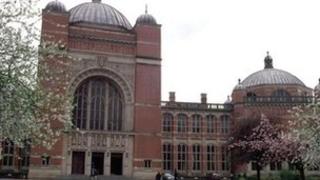 Lawyers say they will fight an injunction which prevents students from occupying buildings at the University of Birmingham.
They are asking the university to withdraw the order which, the lawyers claim, blocks peaceful protests.
A group of up to 25 students occupied a building in Edgbaston in November over plans to introduce £9,000 annual tuition fees.
The university said it applied for the injunction to protect student safety.
The students occupied a building at the university on 23 November to protest at 200 planned redundancies and budget cuts.
Open letter
The university said a judge had granted the injunction to prevent further occupation of the university premises, because of his concerns that protesters were disregarding safety issues and planned to occupy other university buildings.
The university said the injunction did not affect students' rights to hold peaceful protests.
However, lawyers said it represented an unacceptable restriction on the students' freedom of expression and assembly rights.
The law firm said it had sent an open letter to the university this week to complain and hoped the problem could be resolved with the university's consent.
Previously the university said most of the job losses would come from voluntary redundancies, but the protesters said cuts were unnecessary as the university had a £20m surplus.
Security guards broke up the occupation, which lasted 48 hours, and no-one was arrested.
For more on student fees and student occupy movements see Inside Out on BBC1 at 19:30 GMT on Monday