'More young homeless' seek help in Birmingham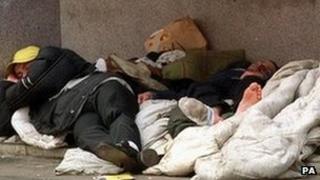 A charity which provides beds for homeless people in Birmingham says it is at least four times over-subscribed.
The YMCA in Erdington said demand had increased for its 83 places for homeless people, aged 16 to 25.
The city council said it had also seen an increase in the number of young people approaching its homeless services.
A total of 2,280 people are homeless in the West Midlands region, latest government figures show.
The figures for July to September 2011 were 140 higher than for the same period in 2010.
Charities are raising the issue as part of Poverty and Homelessness Action Week.
'Long battle'
Steve Ellison, 32, who works at the YMCA in Erdington, has experience of being homeless himself after losing his job as a result of a drinking problem.
"It was a long battle trying to come away from that and I got a lot of help from various places," he said.
Mr Ellison said he tries to help young people by telling them "a lot about my story".
He added: "It's quite difficult, especially with the employment market the way it is. But there are things out there.
"I mean I did a lot of volunteer work and we try to push that as a main thing to be working towards with your CV. It helps."
Cold spell
Birmingham City Council, which is run by a Conservative-Liberal Democrat coalition, has launched a new strategy to tackle homelessness after reviewing the problem in the city.
Jim Crawshaw, head of homeless services, said it had a "specialist young person's hub" to help those aged 16 to 25.
"The main reason for young people approaching the city council as homeless is due to family breakdown and of course that can be through a variety of reasons," he said.
Mr Crawshaw said that despite cuts to council services, its homeless service did not see any funding reductions last year and was among its "key priorities".
He said domestic violence was one main cause of homelessness in the city and specialist workers would be placed in the council's four housing advice centres in recognition of this.
The council is also working with charities and private landlords to help find suitable accommodation.
Meanwhile, as temperatures in the city are expected to reach at least -5C (23F), the council says the William Booth Centre in Shadwell Street will be open overnight for people sleeping rough.
The council-funded centre, which is run by the Salvation Army, will provide shelter followed by a hot breakfast.
Staff will be able to assess people's needs and offer additional help and advice, the council said.