Meriden Gypsy protest camp decision due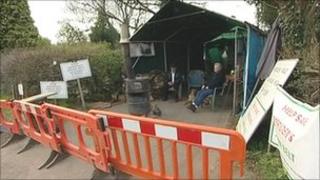 Councillors are due to decide whether to evict residents who set up their own camp in protest at an unauthorised Gypsy site in the West Midlands.
An unauthorised Gypsy camp was set up in Meriden on 30 April 2010.
Villagers then set up their own encampment in Eaves Green Lane, Meriden, in protest at the Gypsy site.
Solihull Borough Council is due to decide later whether to order the removal of the Residents Against Inappropriate Development (RAID) camp.
RAID members have been taking it in turns to hold a continuous 24-hour vigil at the camp since they set it up.
'Wasting taxpayers' money'
RAID spokesman David McGrath said: "The council should give us more time to finish our campaign."
The meeting at 16:30 GMT will decide whether to force protesters to leave.
The council has said it takes issue with the structure of the protest camp.
Mr McGrath said: "The council should not waste taxpayers' money taking enforcement action against us.
"This is about residents standing up for themselves and saying 'we will not be moved' - this type of abuse happens all around the country but in Meriden we are drawing a line in the sand.
"We won't break the law because there is no law against us sitting on our own grass verges to continue our protest."
Joseph Jones from the Gypsy Council said: "I don't know many councils that would have allowed them to stay there. If it was to say they're allowed to stay, we'd have to ask why."
Enforcement demands
Villagers set up the camp in the gateway to a builder's yard in 2010 to monitor the travellers and protest against their site.
Travellers on a nearby plot lost an appeal to stay on the greenbelt land in October last year.
They had applied for retrospective permission to build eight permanent pitches for their caravans, but the council refused planning permission, and the appeal upheld the council's decision.
Mr McGrath said: "We will only leave [our protest camp] when we see enforcement against the illegal site."