Airport opens Flight School for science and technology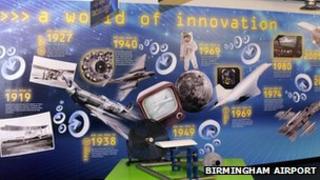 A working model of an aeroplane wing will be part of a new project in Birmingham to encourage more children to take an interest in technology.
The Flight School learning centre at Birmingham Airport wants to inspire students with a hands-on science experience.
Overlooking the runway, they can also handle precision-made aircraft parts and find out how they are engineered.
The centre has been officially opened by Business Secretary Vince Cable.
The airport has developed the centre with local business and education partners, including Small Heath School.
Dr Cable said the centre, which will be used by schools and colleges, would help "stimulate interest and encourage the take up of the high-level skills UK businesses need to succeed".