Meriden Gypsy protesters to be evicted after council vote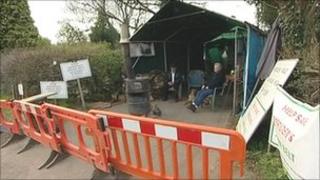 Councillors have voted to evict residents who set up their own camp in protest at an unauthorised Gypsy site in the West Midlands.
The Gypsy camp had been set up in Meriden on 30 April 2010.
Villagers then set up their own encampment in Eaves Green Lane, Meriden, in protest at the Gypsy site.
Solihull borough councillors unanimously voted to order the removal of the Residents Against Inappropriate Development (Raid) camp.
After the meeting a protester told the BBC: "They can take away our camp, they can take away our shelter, but we're not going anywhere."
Gypsies on a nearby plot lost an appeal to stay on the greenbelt land in October last year.
They had applied for retrospective permission to build eight permanent pitches for their caravans but the council refused planning permission, and the appeal upheld the council's decision.
Raid members have been taking it in turns to hold a continuous 24-hour vigil at the camp since they set it up.