The Musgraves' kit stolen hours before Graham Norton gig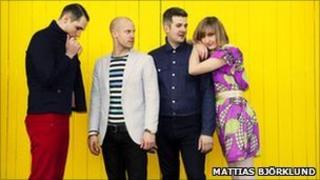 Members of an unsigned band have told how they had all of their instruments stolen hours before they were due make their first national TV appearance.
The Musgraves acoustic pop/folk band, from Birmingham and Wolverhampton, had taken all of their kit and clothing to a photo shoot the day before.
They left their belongings in a hired van on Sunday to give themselves a lie-in but it was broken into overnight.
They played on The Graham Norton Show using borrowed kit and old clothes.
Lead singer and songwriter Matthew Bennett said: "It was a massive thing, we're the first unsigned band to get asked to do the show.
'Showbiz crimestoppers'
"Everything has gone, the lot's gone. Everything we own, all our clothes, every little bit of gear. It is just like instead of stealing a TV from your house, like stealing your house," he added.
Through a combination of borrowing, hiring and making do, the band managed to keep their booking with The Graham Norton Show on Monday.
"There was no way we weren't going to do it, and everyone at the show was amazing," the singer added.
Norton was so impressed by the group he used Twitter to help them try to get their kit back.
After Monday's show, due to be broadcast on BBC1 at 22:35 GMT on Friday, the presenter tweeted: "Thanks for being so brilliant on the show. lets turn twitter into showbiz crimestoppers. surely we can find the drum!"
Childhood violin
The drum was one of only 15 made in the world, group manager Stuart Roslyn said.
Violinist Lesley Turner has had her violin since she was 12, he added.
"It takes a long time to get them in tune to how you want them, she's been working on it for many years," he said.
Fellow Graham Norton guest comedian Reginald D Hunter also tweeted, urging people to buy the release Last of Me to help the band after their belongings were "nicked".
Norton has offered to buy the group a replacement glockenspiel so they can keep going in the meantime.