Birmingham Airport re-opens after snowfall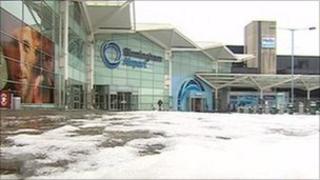 Birmingham Airport has re-opened after heavy snow caused disruption across the West Midlands which remains on yellow alert for severe icy weather.
A spokeswoman for the airport said six flights were cancelled with a further 11 diverted to other airports on Saturday.
The Met Office said up to 7cm (2.8in) fell in places across the region causing problems on the roads too.
The Highways Agency urged road users to "drive with extra care".
A spokesman for Centro said buses were now running to schedule across the region.
Chris Perry, from the transport authority, added: "We've got to pay tribute to the highways authorities who've been doing a sterling job trying to keep the roads as clear as possible.
"The public transport operators have done a brilliant job and thanks very much to all those professional drivers who last night managed to keep the service going as long as possible in some very difficult conditions.
"Today seems to be much better."
A spokesman for West Midlands Fire Service said crews were called to Kingfisher Country Park in Shard End at about 14:20 GMT following reports that a man had become stranded in a frozen lake.
The man was rescued from an island in the middle of the lake which he had reached by walking on the ice.