Wolverhampton chuggers face three-day limit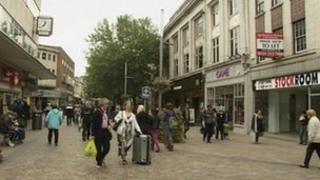 Chuggers are to face restrictions in Wolverhampton - amid fears they are putting off shoppers.
The charity workers, who stop people and ask them to sign up to give cash, will only be allowed into the city centre for three days a week.
Wolverhampton MP Paul Uppal claimed hundreds of people he had surveyed had said they were put off by street fundraisers.
Discussions are still continuing about which days chugging will be allowed.
The agreement was reached after talks involving Wolverhampton City Council and the Public Fundraising Regulatory Association, which is made up of charity members.
A spokesman for Wolverhampton City Council said: "We've had a lot of complaints about the chuggers from people who use the city centre and say it puts them off.
"We are acting on behalf of the public to make this situation more manageable.
"We are not having a go at charities, but in this economic climate we have to do everything possible to help our businesses."
Charlotte Campbell, assistant manager of Patisserie Valerie in Wolverhampton, said the agreement was a good idea because she was approached by chuggers every time she took her 15-minute break.
She said: "If people have a break they tend not to go into the town centre because they don't want to come face to face with them. You have to give them an explanation every time they stop you, but it's just too much all the time.
"I was asked quite personal questions about my incomings and outgoings to basically fish out if I could afford what he was suggesting to me."
Mr Uppal, Conservative MP for Wolverhampton South West, said of his survey: "If you could specify one reason that put people off shopping in Wolverhampton, chuggers came out top.
"Parking was number two on the list."
'Small minority'
Ian MacQuillan, from the Public Fundraising Regulatory Association, said he did not recognise those results.
He said: "We've done some of our own research with YouGov. We surveyed 2,000 people a couple of years ago and we asked a similar question.
"We found a very small minority of people were saying the presence of fundraisers was stopping people going into town centres.
"This isn't a situation that we've found to be a major problem."
Collecting money for charity in the streets requires a licence, but collecting bank details in the street does not.