Rally remembers Battle of Saltley Gate anniversary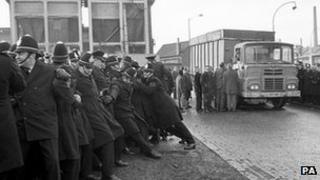 Arthur Scargill and former miners are among people who attended a rally marking the 40th anniversary of a strike which involved thousands of workers in Birmingham.
About 30,000 workers, mainly engineers, walked out in support of striking miners on 10 February 1972, in an event which became known as the Battle of Saltley Gate.
Many joined 2,000 miners trying to force the closure of Saltley Coke Works, which had remained open four weeks into a national miners' strike.
Mr Scargill, then an activist from the Yorkshire region of the National Union of Mineworkers (NUM), led the strike - which was the miners' first national strike in nearly 50 years.
Miners' wages had fallen behind other comparable industries because of high levels of inflation.
Within weeks of the strike, the government agreed to the miners' demand for a 43% pay rise.
Peter Jackson, from the Birmingham Trades Council which organised the anniversary rally, said: "The victory on the 10th of February was a battle between the working class and the government - which the working class won."
Mr Scargill said he would never forget the efforts of the workers of Birmingham.
"No longer were they prepared to to see miners beaten day by day - they were coming to our aid and for that we are eternally grateful," he said.
"And we'll remember them, well certainly in my case - to my dying days."
Mr Scargill said the memorable day in 1972 was also a lesson.
"It's no good simply commemorating the event, we need to use this experience in today's term. And that means opposing the attacks which are taking place in health, education - a whole range of things."
Prof Stan Siebert, from the University of Birmingham Business School, believes that in 1972 Prime Minister Edward Heath, who threatened a wage freeze, had forced the unions' hands.
"Why was he printing so much money and then blaming the unions for the inflation?" he said.
But he thinks that the legislation introduced during Margaret Thatcher's government to restrict union power was a necessary step.
"The 1984 strike was pursued in a very different environment, and I think that was the end of Scargill," he said.