Dudley scrap metal dealer praised by MPs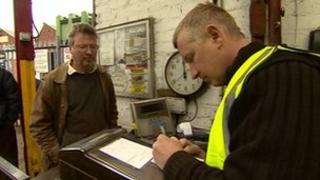 A Black Country recycling company has introduced a new scheme to combat metal thefts as it prepares for planned changes to the law.
Mason Metals, based in Brierley Hill, launched a voluntary register of customers in January.
Commercial Manager Neil Woodall said the trial was designed to create a "more robust audit trail".
In January Home Secretary Theresa May announced a range of measures to tackle the growing problem of metal thefts.
The proposals included banning cash payments and increasing fines.
James Morris, Conservative MP for Halesowen and Rowley Regis, praised Masons Metals in the House of Commons last week, and said the company was an example to other traders across the country.
The metal recycling sector is worth about £5.6bn to the UK economy and employs some 8,000 workers.
Despite a dip during the recession, the value of metals has doubled since 2008.
Existing legislation
Mr Woodall said the company, set up in 1960, already had CCTV in place and kept a record of transactions, including vehicle number plates.
"We don't do business with people on foot, or who arrive by taxi," he added.
He described the voluntary register of customers as an extension of the Waste Transfer Note, required under existing legislation.
The note includes a general description of the waste material, along with its weight, and is signed by both parties.
Mr Woodall said the company's customers tended to fall into two groups; large-scale traders and individual home-owners who were having boilers or appliances replaced.
"We noticed that most people were volunteering ID anyway, probably because of the recent news coverage about metal thefts, so we just decided to try formalising that, after consulting with Dudley police.
"We also found that it speeds up trade. Because if we've already got a record of people's personal details, they only have to show us ID to complete the business."
Mr Woodall suggested banning of cash transactions, proposed by government, would not in itself reduce the number of metal thefts.
"If you're doing your job properly [as a dealer] it shouldn't matter if you're paying for things by cash, cheque or electronic transfer.
"Banning cash sales could just lead to the creation of a black market, because the high value of metals is still there."
For high-value and commonly stolen metals such as lead, copper cables and catalytic converters, Mr Woodall said staff also routinely scanned the metal with UV torches to check if they were marked with the SmartWater security paint.
The British Metals Recycling Association (BMRA) said the system was similar to a six-month trial it had started in the north-east of England.
Operation Tornado requires customers of participating metal dealers to present photo ID along with a recent utility bill.
The project is a partnership with British Transport Police, the Association of Chief Police Officers (Acpo) and the Home Office.
Richard Truman, spokesman for the BMRA, said feedback from the industry and police had so far been very positive and he said the experiences were intended to guide legislation.