The Coventry lecturer who practices what he preached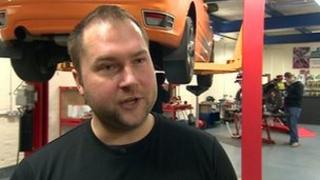 Former college business lecturer James Brennan had fallen out of love with his profession and was facing redundancy in July.
A self-confessed "average Joe", he had a mortgage to pay, a family to support and credit card bills to service.
Three months later he was running his own DIY car and bike servicing garage, stemming from his life-long love of motorsports.
The 37-year-old from Coventry is among an increasing number of people who are using redundancy pay-outs to fund their own start-up companies.
Mr Brennan said: "I wasn't happy doing what I had been doing. The kids were great, everything in the classroom, that was brilliant.
"It was the rest of it; the paperwork and the politics, after nine years it made me want to leave the industry."
During a boy's night out in a pub in Leicester, he hatched a plan to run his own business hiring out his garage and tools for people to service their own cars.
He said: "I told them that I was applying for voluntary redundancy and we started talking about what I should do next and knocking around a few ideas.
'Supportive family'
"Initially there were some niggling doubts, was I doing the right thing. I still don't know.
"I'm not a rich man but I'm trying to put into practice what I used to teach. I always thought I would run my own business sometime in the future. Redundancy gave me the push I needed and the capital to do it.
"I'm breaking even but I'm not paying myself a wage yet. Luckily I have a very supportive family around me and hopefully this will take off."
Specialist business insurer Hiscox suggests that 17% of small businesses in 2011 were set up following one or more of their owners being made redundant.
Karen Woolley, a development manager for the Federation of Small Businesses, said: "More people are calling us for advice in setting up their own business.
"There are a lot of redundancies, particularly in the public sector and a lot of people with good ideas who have an entrepreneurial spirit.
"We are telling them to be sensible, be grounded and have a good business plan.
"If they are having difficulty getting back into employment, this could be just what they need."