Massaro murder in Wolverhampton: Granddaughter found bodies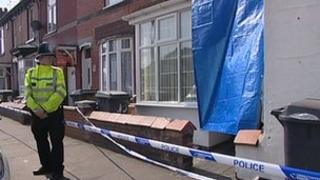 Making their way along the path to her grandparents' house, Lindsey Booth and her mother Lena both sensed something was wrong.
"When we walked up it was really eerie," Ms Booth said.
"My nan was a neat freak. They had these slatted vertical blinds and one of them was a centimetre out of place.
"We both thought, 'what is that like that for'?"
Miss Booth, 23, was the first person to find her grandparents Guiseppe Massaro, 80, and wife Caterina, 77, lying dead on their bedroom floor following a hammer and knife attack by an intruder.
Letting herself in with a key she was confronted with the scene of a burglary.
"I let the door swing open and I just saw all this mess everywhere. All the furniture was in place but there were these letters everywhere and cushions and papers thrown about.
"I just knew they [her grandparents] were in the house as soon as I set foot in the front door," she said.
Her first instinct was to ring the emergency services and she climbed the stairs while she was on the phone to a paramedic.
"I just pushed the door and I saw my granddad first.
"I walked round and saw my nan and the paramedic said, 'do you know if they are breathing' and I went down and I thought maybe they are still all right and I can do something."
However, her grandparents were dead.
Ms Booth, a youth worker, said: "They were just cold. I just touched them and they were just cold.
"That is something that a granddaughter should never have to do."
The police investigation initially focused on the couple's stolen car which was found abandoned in Wednesfield about half a mile away from the Massaro's address in Park Village.
Det Supt Keith Wilson said: "It was a savage attack with hammers and knives and when you saw Caterina and Guiseppe it was so sad."
He described it as the worst crime scene he had experienced.
He added: "The significant find for us was a receipt at Asda."
The receipt for some beer was found in the Massaros' stolen car and gave the police a time and date stamp which officers were able to match with in-store CCTV that showed the offender purchasing beer and linked him to the stolen car.
Ireneusz Bartnowski, 22, of no fixed abode, has been convicted of killing Guiseppe and Caterina Massaro.
A second man, Wojciech Ostolski, 32, was charged with handling stolen goods but was found not guilty by a jury at Wolverhampton Crown Court on Thursday.
Mrs and Mrs Massaro left their native Italy for a new life in England in the 1960s.
Mr Massaro worked in a factory and the pair enjoyed an active social life in their adopted home of Wolverhampton.
Their grandson Richard Booth said: "They brought their Italian culture here and they showed that through their dinners.
"We would go round on a weekly basis and on occasions like Easter, Christmas and birthdays to celebrate.
"They hosted a feast of food, wine, three litre bottles and we just wined and dined and celebrated the moment and the good times."
His sister Katie added: "Any time you went round, it was, 'do you want a cup of tea, some cake, coffee'?
"They were just really, really loving people and they adored their family."