Man jailed for 'brutal and savage' Wolverhampton murder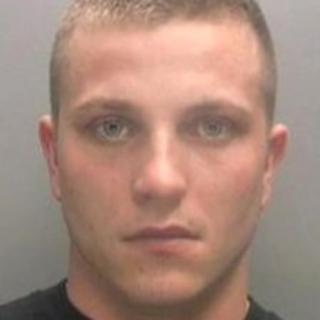 A man has been jailed for murdering an elderly Italian couple in a "brutal and savage attack".
Guiseppe Massaro, 80, and his wife, Caterina, 77, were found dead at a house in Woden Road, Heath Town, Wolverhampton, in April.
Polish national Ireneusz Bartnowski, 22, of no fixed address, who denied the charges, was convicted of the murders at Wolverhampton Crown Court.
Bartnowski was jailed for life and told he must serve a minimum of 34 years.
After a three-week trial, a jury of six men and six women took just over six hours to convict Bartnowski.
The court was told he had attacked the couple with a claw hammer and a knife.
Judge Alistair Macduff said he had "almost been moved to tears" by the family's statements.
Sentencing, he said: "You, on the other hand, have shown no remorse, no pity, concerned only with saving yourself and heaping the blame on others.
"You lack all humanity. You are evil beyond belief.
"This was cold blooded murder. Yours was an intention to kill. You knew you had no alternative but to end their lives."
The court heard that Bartnowski had been staying with his sister and brother-in-law next door to the Massaros, having arrived in England just two weeks before the murders.
The judge told him: "They must have recognised you as they put up a futile resistance to your attack.
"The fear and pain they must have felt in their dying minutes is unimaginable.
"Having murdered the couple and having stolen their belongings, you returned to the house the next day on two further occasions to see if there were more pickings.
"You went through their papers, searching for more valuables as they lay cold upstairs. No-one knows what further items you took away."
'Victim of wickedness'
The court heard Bartnowski had blamed a friend, who was found not guilty of handling stolen goods, for the couple's murder,
The judge said: "He is a man who had befriended you and innocently assisted you in attempting to sell the televisions and car which you pretended you had come by innocently.
"As a consequence of that he was arrested on suspicion of murder... he is also a victim of your wickedness."
The bodies of Mr and Mrs Massaro, who emigrated to England from Naples in 1960, were found at their home by their granddaughter Lindsey Booth, 24.
Speaking after the sentence, granddaughter Lindsey Booth said: "We've needed closure and having the person responsible receive a guilty verdict has lifted a burden off of us.
"We wish to thank God, the police and Victim Support for the justice we have received today and after this year of turmoil we will finally be able to move on with our lives.
"However that does not diminish the fact that they were taken in such a tragic way and we will miss them every day of our lives.
"We will never understand why but we hope in prison he gets what he truly deserves and is subjected to the very pain, violence and fear my grandparents were subjected to."
Supt Keith Wilson, of West Midlands Police, said: "Today is not about the evil and cowardly actions of Ireneusz Bartnowski.
"Today is about recognising the sudden and tragic deaths of Giuseppe and Caterina, which has had a truly devastating impact on their whole family, the wider community and their friends and family in Italy.
"Throughout the investigation and the trial they have shown immense dignity and bravery and our thoughts and prayers remain with them.
"This has created a huge void in a lot of people's lives. However Bartnowski will now have plenty of time to contemplate the pain and suffering he has caused."
The court heard Mr Massaro was stabbed in his head, neck and body. One of his wounds was 14cm deep.
His wife bled to death after being stabbed in the neck.