Three jailed for life over Ricky Basra murder in Edgbaston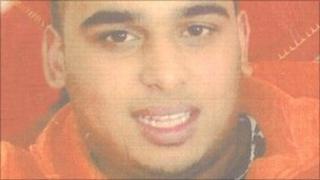 Two men and a woman have been given life sentences after a 22-year-old man was shot dead in Birmingham last year.
Barrington Denny, 23, from Gladstone Road, Sparkbrook, pleaded guilty to the murder of Ricky Basra and was sentenced to a minimum of 28 years.
Denny shot Mr Basra on Melville Road, Edgbaston, on 21 June, police said.
Gary Narwain, 21, of Calthorpe Road, Walsall, and Sarah Singh, 32, of Colville Road, Sparkbrook, got minimum terms of 26 and 22 years respectively.
'Pivotal roles'
They denied murder but were found guilty at Birmingham Crown Court.
In a statement released after sentencing, the Crown Prosecution Service (CPS) said key mobile phone evidence and CCTV footage "painted a vivid picture of the cold and callous plan and actions of the three".
Paul Dhami, Crown Advocate for the West Midlands CPS, said they all played "pivotal roles" in Mr Basra's death.
He added: "Ricky Basra was lured to a meeting point by Sarah Singh, who at the last minute was substituted by Barrington Denny who in turn shot Ricky Basra in the chest at point blank range.
"Meanwhile, Gary Narwain provided the car used by Denny as well as assisting in the destruction of clothing and other evidence."
Det Sgt Rob Bastin, from West Midlands Police, earlier said: "This cowardly and callous attack has had a lasting effect on Ricky's family and friends and my thoughts and sympathy go out to them."