Smethwick Malcolm X plaque 'timely reminder' post riots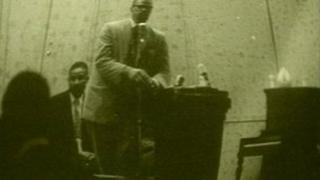 Civil rights campaigner Malcolm X changed history when he visited the West Midlands during a period of heightened racial tension in 1965.
He was invited to Marshall Street in Smethwick where white homeowners were lobbying the council to buy up houses to prevent black or Asian families moving in.
Conservative members of Smethwick Borough Council and the local Conservative MP were using their influence and control to prevent non-white people from buying homes there.
The visit of Malcolm X - nine days before his assassination in New York - helped to end the discriminatory housing practice.
Before 1964, the US campaigner had advocated fighting against white oppression in a way that his critics called a form of black supremacism. However, after leaving the Nation of Islam party he underwent an ideological reinvention as a civil rights campaigner and was shot dead delivering a speech of unity to followers in Harlem on 21 February 1965.
To mark the anniversary of his death, his success in Smethwick is being commemorated with a blue plaque in Marshall Street by the Nubian Jak Community Trust, which runs Britain's only black and ethnic minority national plaque scheme.
"Hopefully this will serve as a timely reminder of his influence here," said trust spokesman Jak Beula.
"There has been a recent rise in right-wing politics in the area with the election to the council of of two BNP members."
He added: "We would not want to see a return to racial intolerance or bigotry and hopefully this plaque will remind people to stand united against that."
Offensive slogans
At the time, Malcolm X had been visiting the UK to give a series of lectures on racism at British universities.
While on the tour he was told how some Conservative members of Smethwick Borough Council and the local Conservative MP Peter Griffiths were using their influence to try to prevent non-white people buying homes in Smethwick.
The area had experienced a high proportion of immigration from Commonwealth communities after World War II and some of the majority white population reacted by electing the right-wing Conservative MP to represent them in Parliament.
The Indian Workers Association was particularly worried by the development and invited Malcolm X to Marshall Street, the focus of the racial segregation campaign.
During the visit he walked side-by-side with members of the association down the street.
"We told him about the situation in Smethwick and he said he wanted to see for himself," said Harbhajan Dardi, the assistant general secretary of the Indian Workers Association.
"We are so proud that we managed to get the greatest leader of the civil rights movement to accept our invitation. It gave us great courage to continue our fight against racism of any type."
As part of Mr Griffiths' election campaign, his supporters allegedly used a highly-offensive racist term that asked how you would feel living next to door to a non-white neighbour, Mr Beula said.
He added: "We are talking about a time when people displayed posters in their window that read 'No blacks, no Irish, no dogs.'
"Racism was commonplace in England at this time, but when Malcolm X came to Marshall Street he shone a spotlight on a blatant discriminatory policy that the British people were not prepared to stand for."
'Great courage'
The BBC broadcast the visit and was heavily criticised at the time for doing so.
However, the practice was brought to the attention of a much wider audience and contributed to the Conservative MP's defeat by a Labour candidate at the 1966 General Election.
Following widespread public condemnation of the discriminatory campaign, it was abandoned by the Smethwick Conservative councillors.
Number 30 Marshall Street was the first home to be bought by a non-white person in 1971, Mr Dardi said.
"After the policy changed it took a while for people's attitudes to change in Marshall Street," he said.
"It took some time for people to change the way they thought about community relations and people who were different from them - that is just human nature - but it happened eventually," he added.