Edgbaston armed robbery of disabled man and carers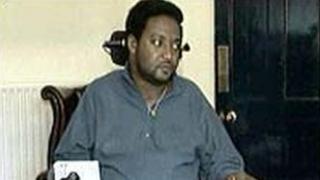 A disabled man who was threatened in an armed robbery at his Birmingham home said he wanted to die.
Noel Martin, 52, from Edgbaston was held at gunpoint with two of his carers shortly before 22:40 GMT on Monday.
The carers were forced to open a safe by three men, who escaped with a sum of money and an engagement ring belonging to Mr Martin's dead wife.
Mr Martin, who has been paralysed since a racist attack in 1996, said he was more concerned about the carers.
He said: "I wasn't frightened because I'm a dead man as it is.
"I'm paralysed from the neck downwards. If he had pulled the gun he would have done me a favour.
"One pointed a gun at me and then held a knife to my throat and said 'where's the money?' I said I didn't have any."
Scream for help
Mr Martin said the men knew the layout of the house before they arrived.
One of the carers, who had finished her shift, was abducted at gunpoint from outside her home in Sandwell and taken to Mr Martin's house.
He said: "They took them downstairs to open the safe and cut her on the hands and threatened to kill them."
After the robbery the men escaped in a silver Honda Civic, which was later found abandoned in Handsworth.
Mr Martin said one of the carers was tied up but managed to open the front door and scream for help.
Neighbours, hearing the screams, came to help and raised the alarm.
West Midlands Police described the attack as "particularly nasty" and made an appeal for witnesses to come forward.
Det Sgt Toby Davis said all three victims were being supported by police.